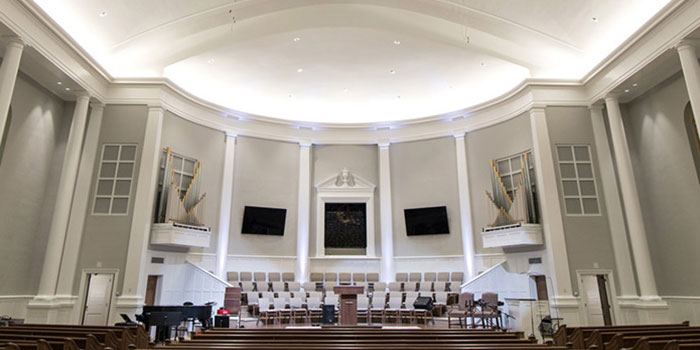 Great Lighting Should Never Be Noticed
Engineered Lighting Products began with a very basic but powerful premise stated by our founder, Ralph Swarens:
"Great lighting should never be noticed."
It's true. When you do notice lighting, it's usually because of shadowing, uncomfortable glare, bad coloring, or light levels being too low or too high. When lighting is done well, however, the space is comfortable, visibility is great, and people aren't even aware of the lighting. Right from the beginning, that scenario was our goal.
Our company had its origins in a sketch by Ralph on a paper napkin. He saw a definite need for a reflector with a parabolic curve design, within a linear asymmetric fixture, the idea being to create a wide throw of light on a wall. Linear, asymmetric lighting products did not exist at the time, and his design utilized linear and compact fluorescent lamps. And with this concept Engineered Lighting Products was born. We've never looked back.
Today, LED's are replacing incandescent, fluorescent and HID light sources. In our asymmetric fixtures the LED board placement is completely indirect so the light source cannot be seen. We are able to attain the best efficacy and distribution without lenses, which other manufacturers continue to use. The problem with lenses is that, while they reduce glare, they also reduce light output. Because of our patented designs we can provide the best lighting performance in the industry.
For these reasons, we're a big hit with architects. Architects are generally not crazy about light fixtures, because they detract from the architectural design. Ours, on the other hand, disappear into the overall design and let the design itself stand out.
For the builder, we provide real, measurable value. We save them money because they'll use fewer fixtures to provide superior results—and fewer fixtures also means less expense in installation. For the end user, our energy efficiency translates to long term savings.
Everything we've ever designed and manufactured was made to solve a particular problem, and so that's the only way we've ever done business. We control all components from raw material to finished products. We're easily able to offer custom and modified products, including custom colors, to meet specific project needs.
All our fixtures are built within our factory in El Monte, California. Only the highest quality materials are integrated into the highest manufacturing standards.
All of this comes down to one overall goal: Great lighting should never be noticed.