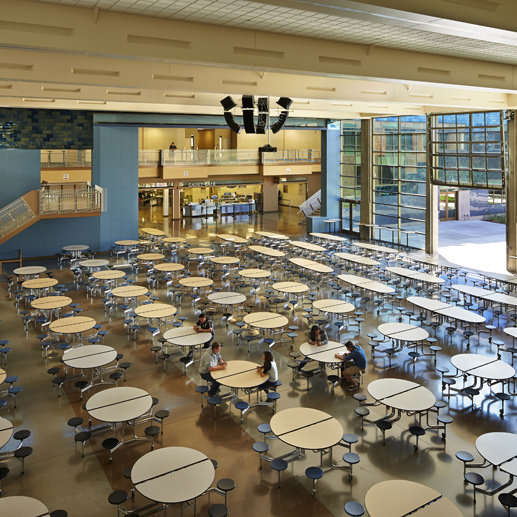 Architects: KDF Architecture / NAC Architecture
Electrical Engineer: Hargis Engineers
Photographer: Benjamin Benschneider
This award winning project in Yakima, Washington welcomes the outside in. Expansive glass walls join the exterior courtyard commons area with the surrounding school. ELP's "Hole in the Wall" fixtures were used to indirectly light this versatile space. Discussing the choice, KDF Architecture said, "we were very pleased that we were able to seamlessly pair artificial light with natural light. Where needed, the fixtures blended in with the buildings aesthetic features. Likewise, when needed, they highlighted key elements. The fixtures were able to meet and exceed a very tight energy budget while providing the light levels necessary for very demanding and flexible spaces." KDF teamed with NAC Architecture to design this vibrant high school. According to their website, it was inspired by the rugged beauty of the Yakima Valley and designed to have a strong presence and visibility to the community. Mission accomplished to a great team!